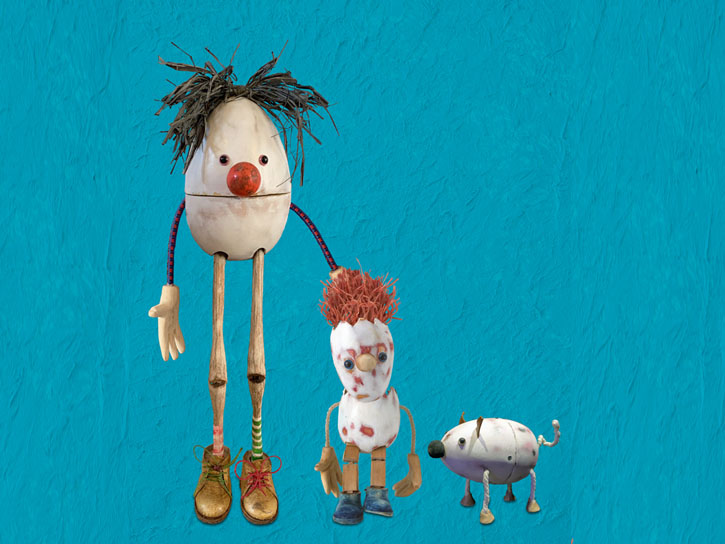 Eggs on Legs
For age 3 - 8
 'Every day, from here to there funny things are everywhere' Dr Seuss
Meet a family of zany Eggs on Legs, living in a lost pocket of the globe. One day the wind blows a huge egg into their tree and they are excited to play with it. But what happens if it hatches and can they protect it from the slithery snake?
Garlic Theatre conjure a poetic, Dr Seuss world full of eggcentric puppets and music to make you roll around with laughter.
A cracking family show bursting with wonder and surprise - you will never look at an egg in the same way again.
In a wondrous land over the sea
I found some eggs with legs like me
One day a huge egg landed in their tree
Will it hatch out and what will it be?
It is a strange egg like no other
Can they care for it and where is it's mother?
Devised and designed by the Company
Performer Mark Pitman
Direction Steve Tiplady
Puppetry direction Liz Walker
Music Iklooshar Malara
Storyline of the show
Mark Pitman is the wonderful physical performer who takes us on a journey to a land of sand and wind where a family of funny and inspiring puppets, Eggs on Legs live in a rusty old bunker.
The show opens when the wind blows a hole in the roof of the shed. Pepe and Lela fly away in their eggplane to leave the 2 children and the eggdog alone at home. The adventure unfolds when a mysterious egg arrives in a gust of wind and Chico tries to play with it. As it hatches out Chico learns to care for it and encounters many surprises along the way.
The show is a warmhearted, poetic story with nurturing at its heart with beautifully crafted and manipulated puppets and gentle clowning.
Show Details
3- 8 years
Running Time: 46 minutes
Devised and designed by the Company
Performer Mark Pitman
Direction Steve Tiplady
Puppetry direction Liz Walker
Music Iklooshar Malara
Tech Info