Garlic Theatre is proud to work with different directors, designers and musicians to continually refine and experiment with new performance techniques. The Company works through improvisation and the devising process is crucial to our work.
Recently the company has worked regularly with director Steve Tiplady, Indefinite Articles and co director Liz Walker, Invisible Thread. The Company has also worked with directors Jean Christophe, France, Mark Bell, Shaun Myatt, Roland Allen, Andras Lennart, Hungary and Bob Pearce. Internationally the Company has worked closely with and been hugely inspired by designer Michaela Bartonova from Tineola Theatre, Prague. The company has worked closely with musician Jonathan Lambert over many productions and has also worked with musicians Anna Mudeka, Rosie Toll and Pete Toll. 
Garlic Theatre would like to thank the following funders who have funded many of our productions, the Arts Council England (project funding), Norfolk County Council, and The Golsoncott Foundation. Also thanks to Breckland Council, the Puppet Centre Trust, the Baring Foundation, Norfolk Museums and the Joanna Scott Foundation.
Rosie Willis works as Garlic Theatre's administrator and has been with the company for ten years. Garlic Theatre also works regularly with photographer Bert Eke and designer Paul Cunningham from Spruce Creative.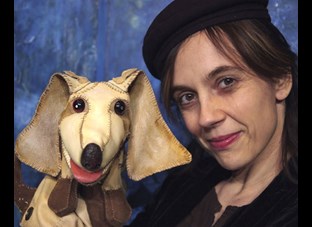 Iklooshar Malara
Co artistic director
Iklooshar studied English Literature at Oxford University before co-founding Big Wheel Theatre Company in 1986, specialising in theatre-in-education and touring England, Europe and Scandinavia.  She also worked as an assistant film editor for Montage Films editing adverts and shorts. As a performer and musician, Iklooshar has trained with Philippe Genty, Theatre de Complicite, Philippe Gaulier, Enno Podehl and Jan Feng and worked as a freelance actress, puppeteer and musician with U.K. Companies such as Forest Forge, Interplay, SNAP, Norwich Playhouse, Faulty Optic and Norwich Puppet Theatre.  Iklooshar is a trained teacher and worked with and Norfolk Family Learning for many years as well as running creative partnership projects and working as a visiting lecturer at The Royal Central School of Speech and Drama. 
In 1997 she founded Garlic Theatre and for the last twenty years has performed with the company touring all around the world. Iklooshar has written successful funding applications which has meant that Garlic Theatre has been project funded by Arts Council England and many trusts and foundations over the years .Her speciality is music and she has written and produced the soundtracks for The Forgotten Tailor, Shoe Kangaroo and the Big Bad Boot and most recently Jack and The Beans Talk. Iklooshar also edits all the promotional videos for the company.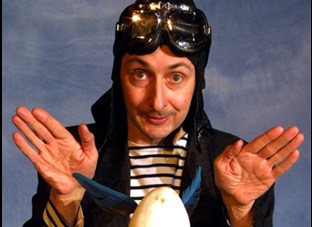 Mark Pitman
Co artistic director
Mark worked as a model maker with Paradigm Models before initiating drama and puppetry workshops at Ravenswood for adults with special needs. He trained in mime and movement with Desmond Jones and went on to study physical theatre at Jacques Lecoq's school in Paris.  After Paris, Mark worked at Norwich Puppet Theatre with directors Ray Da-Silva, Barry Smith and Luis Boy. He was puppetry, manipulation and construction tutor at The Royal Central School for Speech and Drama in London for many years working alongside Penny Francis OBE.
As a director, Mark has worked with many U.K. companies such as Banyan, DNA, Nutmeg,  Indigo Moon, and internationally with Tineola Theatre in Prague and the Andersen Theatre in Lublin Poland. Mark has also studied with Yang Feng, Enno Podehl and David Glass. Mark also studied leather mask making with Donato Sartori in Italy.
In 1997 he co founded Garlic Theatre and for the last twenty years has performed with the company touring all around the world. Mark has co directed many of the productions. He builds the sets and specialises in the construction of the puppets. Mark also runs adult workshops in mime, movement and masks in performance
International Festivals
Garlic Theatre has toured to 21 countries outside the UK winning 5 awards in International Puppet Festivals.
International Puppet Festival Lahore 1997
Hungary Iron Rooster Festival Gyor 1999(First Prize)
Slovenia Lutke Ljubljana 1999,2000
32nd Zagreb International Puppet Festival 2000
Ghent Figeuro 2000 (Luk Vincent Prize),
Llleida and Gava Spain 2001

Ghent Figeuro 2001

Brazilian International Festival 2001
Kramfors Pupptry Festival Sweden 2001
Festival of Wonder Denmark 2001
Finland 2002
Singapore Arts Festival 2002
Meppel Festival Holland 2002
Dubin Puppet Festival S Ireland 2003
Taiwan Arts Festival 2005
Copenhagen Puppet Festival 2007
Gent Festival 2008
Lubin Hans Andersen Theatre Poland 2009
Lasi Romania 2011
Kassel Germany 2013
Brittany Festival 2013
Moscow Puppet Festival 2014
Gent Festival 2016
Slovenia  Maribor and Ljubljana  2016